How to Install & Configure Lotus Notes ?

Export to PDF |

Email to a Friend |

Print this Page
Installing & Configuring Lotus Notes includes 2 steps as follows:
Step 1 - Installing Lotus Notes
Step 2 - Configuring Lotus Notes
Step 1: Installing Lotus Notes
Click on Download Lotus Notes to start downloading Lotus Notes client software.
Run the self extracting file Notes7.exe. It will create a directory called C:\Lotus7.
(HINT: A Win Zip Self-Extractor window appears, please click on Unzip. When the files have been expanded click OK. Then click Close.)
Run setup.exe from the C:\Lotus7\Clients\W32Intel\ folder.
Click Next.


On the License Agreement screen, checkmark I accept the terms in the license agreement and click Next.

Type your name and organization name and click Next> button

Click Next> to accept the default destination folders.

Click Next> to accept the default features

Make sure that the box Make Notes my default email program is unchecked. Click Install to begin installation.


The installation of Lotus Notes begins. After installation is complete, click Finish.

Installation of Lotus Notes completes.
Step 2: Configuring Lotus Notes Client
Launch Lotus Notes by selecting Start > Programs > Lotus Applications > Lotus Notes. You will have a screen that looks like the one below. Click Next> (Note: If you see a different screen, it may be because you have installed a previous version of Lotus Notes before or this is not the first time you attempt to install Lotus Notes 6 on your computer)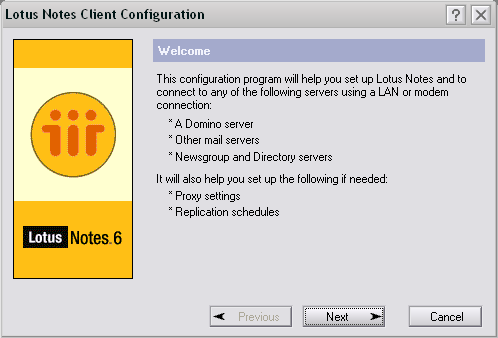 Type in your name in the Your name box, and uncheck the I want to connect to a Domino server box. Click Next>.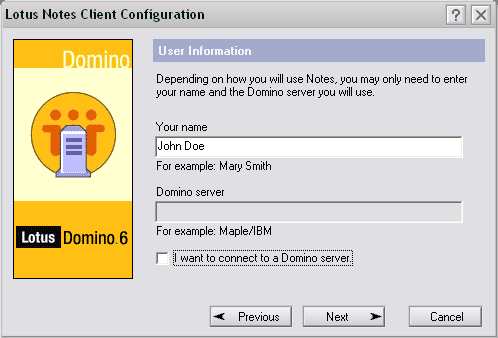 Make sure that none of the boxes are checked and click Next>.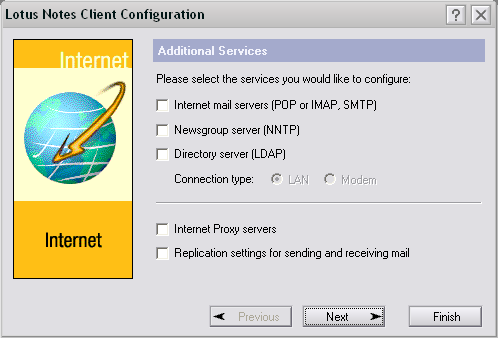 Click OK when the Notes setup is complete.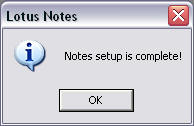 Lotus Notes will open the Welcome page with Notes 6 setup options. Click on the No thanks, just give me the defaults option.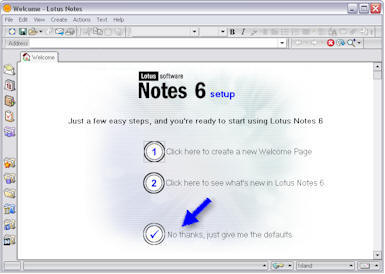 Then you will have the Lotus Notes' default Welcome page on the screen.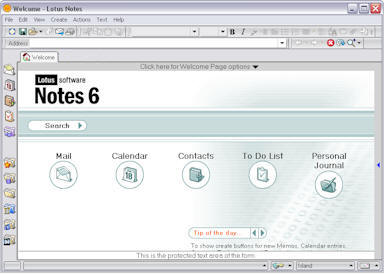 Export to PDF |

Email to a Friend |

Print this Page